A non-surgical treatment choice for treating fat reduction, cellulite and skin tightening, the ulitmatepro combines four advanced treatments to offer you a completely bespoke approach for destroying fat cells and improving the appearance of problem areas.
Cryolipolysis for fat reduction,
Cavitation,
Radio Frequency for skin tightening
Shockwave Therapy for cellulite reduction.
Our treatments will often combine a mixture of all four approaches to create a bespoke treatment tailored to the areas that you wish to address.
Treatment options and costs
How Does This Technology Work?
Cryolipolysis
Cryolipolysis, often called 'Fat Freezing' is a non-surgical procedure that uses cold temperature to reduce fat deposits in certain body areas. This treatment is designed for people that struggle to reduce stubborn fat deposits.
Cavitation
This technology delivers strong ultrasound energy through a handpiece placed on the skin's into the fat cells creating waves of pressure the fat cells can't withstand. This very quickly breaks down the fat cells. The damaged cells release the energy stored in the fat cell into the spaces between the cells, where it is then picked up by the body's natural waste removal system. This gives an inch loss reduction in the treated area.
Radio Frequency
3D-Body RF technology is a fantastic treatment for both skin tightening and cellulite reduction. The 3D-Body RF energy selectively increases the temperature of the fat cells, by doing so simultaneously in deep and superficial layers of fat. This increases the metabolism and release of liquid fat from fat cells. Normal cells can support 60 degrees but fat cells start to be melted at 41 degrees. After the treatment and release of liquid fat, the fat cells shrink in size, and skin is restored closer to its original form, reducing or eliminating the appearance of cellulite.
Radio Frequency can be used for both fat melting and skin tightening depending on your concern.
Shockwave
Sound waves stimulate the microcirculation within the fat layer, increasing the metabolic function of the area and increasing cellular membrane permeability. Free fatty acids and glycerol are released from the fat cells and sit in the intercellular space. Lymphatic movement and increased blood supply remove these waste products from the body.
Shockwave uses the body's own ability to repair itself after the trauma of the shockwave, increasing the stimulation of the blood flow, expanding the size of existing blood vessels. This effect encourages new cell growth, creating a much healthier cellular regeneration within the treated area.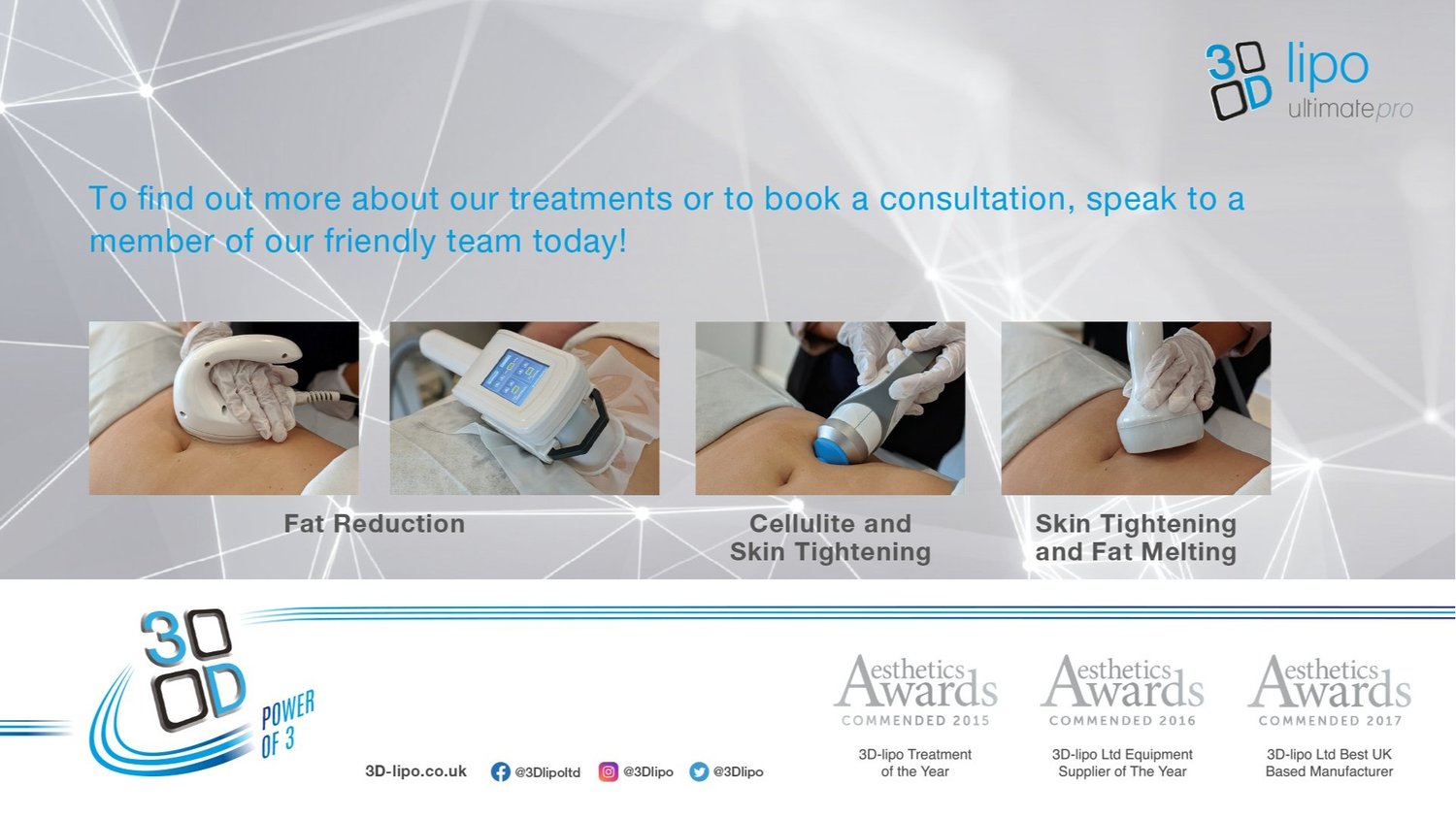 How do i know what treatment to book?

We offer a free consultation service, this will go through all the technologies, so we can make a plan to suit all your needs. We work in 30, 60. or 90 min treatments depending on area size.
How many sessions will i need
Usually a course of 8
When do you see results?
You will see results after the first treatment with Cavatation and radio frequency. Cryolipolysis can take 6-12 weeks
What area can you treat?
Abdoman, Thigh, Buttocks, Stomach, Arms. any area/pocket of fat, or cellulite.
Can i have fat freezing all over
No, this is a one of treatment designed for stubborn areas of fat pockets. we can advise on consultation.